True Optimism
Artist: Gresham Tapiwa Nyaude
Vernissage: Sept 12th, 16:00-20:00, 2020
Duration: 2020/9/12- 2020/10/31
Venue: Room 204, Bldg 4A, 50 Moganshan Rd, Shanghai, China
Tel: +86 21 52522551
www.vanguardgallery.com
Vanguard Gallery is pleased to present Gresham Tapiwa Nyaude's first solo exhibition: True Optimism on 12th September, 2020. Last year, Gresham exhibited some of his works in the dual solo exhibition Poetry of the Rebels, this time, he will continue his creation with the perspective of observing and experiencing his surroundings. At this critical moment of global pandemic and regional events, Gresham's artistic language and subject approach is becoming more and more mature and diverse. The exhibition will last until 31st October.
Born and raised in Mbare, Gresham works against the sweeping identity that has been defined by the voice of the state. His images oscillate between figuration, abstraction and hallucination, drawing from the restless energy of the ghetto. Mbare is Harare's and perhaps Zimbabwe's most vibrant and notorious ghetto. Allegedly ridden with hooliganism, violence and prostitution, Mbare is said to parallel the conditions of Harare for Zimbabweans during the colonial segregation era (in respect of its hardship and quality of living space). To this day Mbare retains the character of a port city with its trade, shady deals and otherwise bustle of unremitting human traffic amid urban decay. Living on the verge between survival and demise has been somewhat of a call to poetry, at times proving brutal and at others sentimental or cynically satirical. In his works, symbolic collapsed figures, floors and chairs are everywhere. With irony, he talks about social issues such as class inequality and consumer culture in the urban environment without concealment.
In this exhibition, Gresham revolves around the chair, an ordinary household item, and unfolds his divergent spiritual exploration of the panic and anxiety that is becoming normality in the current world. Continuing his colored collage-like images, he invites viewers to confront the social unrest and natural disasters caused by human factors in recent years, as well as the domino emotions they have triggered. Using symbolic elements such as chairs, he further explored "relationships", the ones between people with each other, the ones between people and the environment, and the other concerning power and desire. He compared this fragile relationship with the crisis of trust in contemporary politics, and present it in the flesh. However, it is through this bold interpretation and presenting this depressing status quo that the artist hopes that people can still uphold their beliefs and hopes, with "true optimism".
"Because in this precarious situation of falling and not being able to make sense of the world, we still want to maintain hope in a better tomorrow, for ourselves and our children and this requires optimism in the truest sense of the word, despite all odds."
— Gresham Tapiwa Nyaude

And the Sun Also Rises Part 1,2020,Oil on Canvans,170 x 130 cm
---
Installation View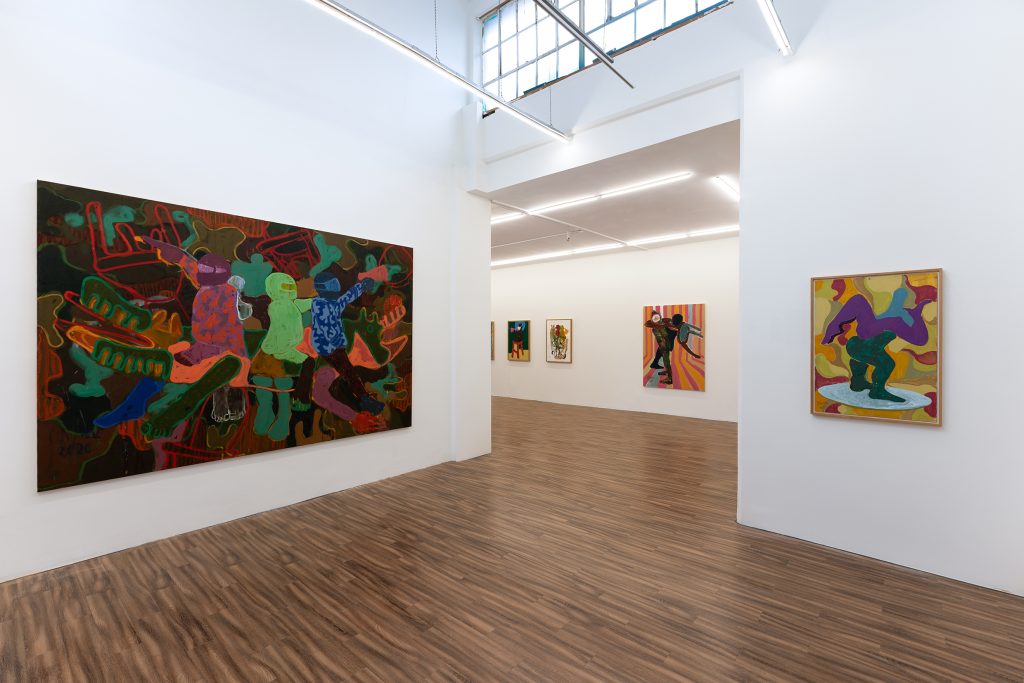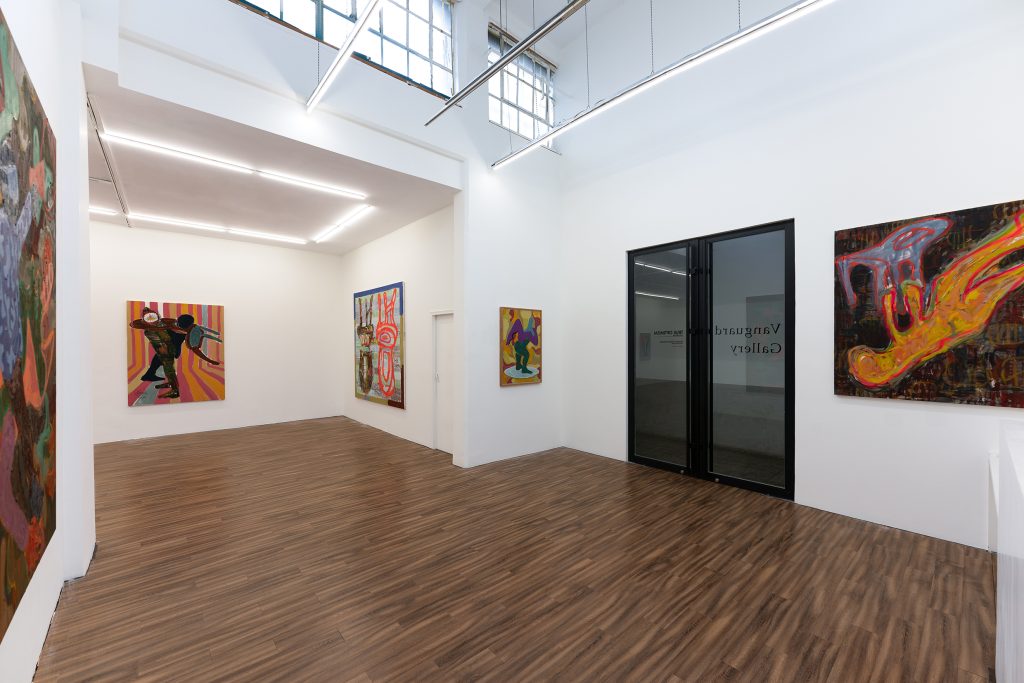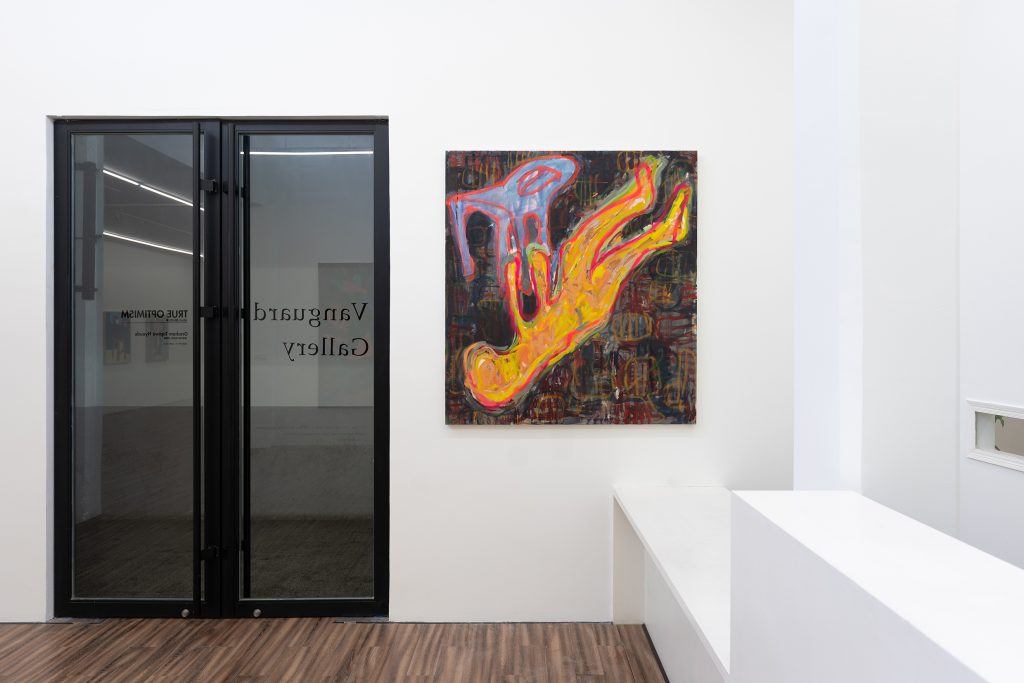 ---
About the Artist
Gresham Tapiwa Nyaude was born in 1988 in Harare, Zimbabwe. In 2008 he received his National Certificate in Fine Arts from National Gallery of Zimbabwe Visual Arts Studios. Now he lives and works in Harare. Recent exhibitions include: Poetry of the Rebels, Vanguard Gallery, Shanghai, China(2019); Day and Night, GNYP Gallery, Berlin, Germany (2019); Night & Day: Mundopa/Nyaude, First Floor Gallery Harare, Zimbabwe (2019); Harare Fauves, Alon Ragev Gallery, Tel Aviv, Israel (2019); 2018 Triennial: Songs for Sabotage, New Museum, New York, USA (2018); Defying the Narratives, Ever Gold Projects, San Francisco, USA (2018); Ex Africa Aliquid Novi, Yannick y Ben Jakober Foundation, Mallorca, Spain (2018); Kubatana, Kristin Hjellegjerde Gallery, London, UK (2018 Duo Exhibition); Mazino, First Floor Gallery Harare, Harare, Zimbabwe (2017 Solo Exhibition); Face the Magic: Gule Wamkulu and its heirs, Loving Monro Gallery, Santa Monica, USA (2017); Another Antipodes/urban axis, PS Art Space, Freemantle, Australia (2017)