Artist: Ye Linghan
Opening: Sept. 6, 3 – 7 pm, 2015
Duration: Sept. 6 – Nov. 29, 2015
Venue: Vanguard Gallery, R204, Bldg.4A, 50 Moganshan Road, Shanghai 200060
Tel: +86 21 62993523
"A continent, because of its huge quality, makes the light change, so cannot see its own; makes the power change, so cannot meet its own; makes the concept of radiance change, so cannot imagine itself. Such a spiritual object is undoubtedly there, but it never appears in front of us, if it appears, it is to identify the subtle distortion in reality."
— Cold Memory 2 by Jean Baudrillard.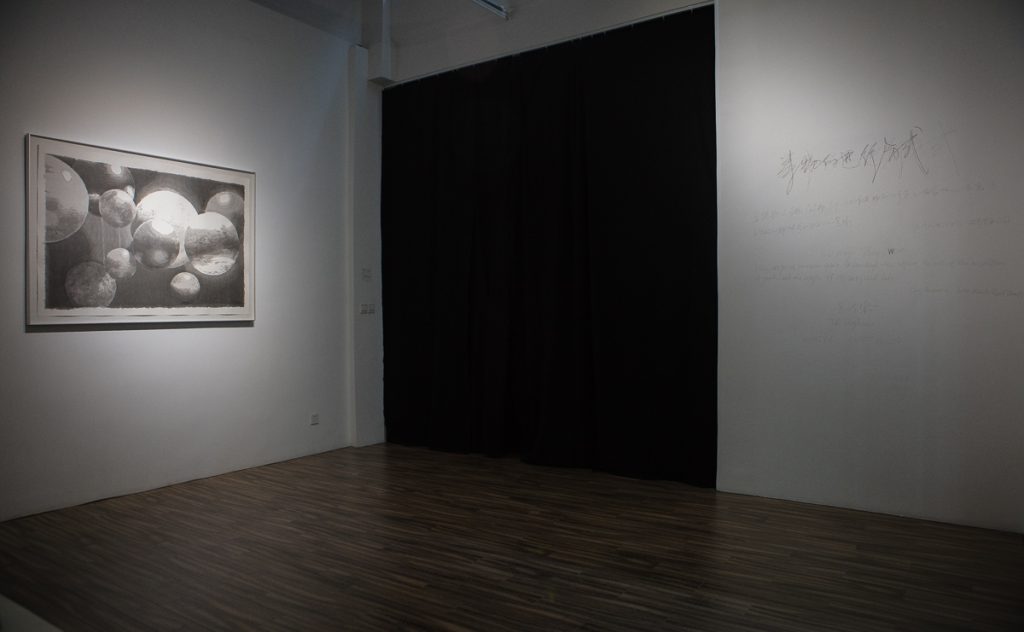 In Ye Linghan's creation we seem to see this distortion reality. The works in this exhibition are closely related to the way of things. The video magnified and deduced a set of objects comes from artist's studio and life situation by the way of controlled poses. A burning meteorite in the fall; A wheel is revolving alone after separated from the bicycle; Spheres which widely exist in the universe are by the carry of the back of hand; A balloon in a shape of panda; A fly sitting on a man-made diamond just likes a man. The Inspirations in visual images comes from an object, a fragment and a stubborn idea, they were organized around the objective surprise, material deviation and some details of surroundings. They are the captured moments extracted from daily life. The ego is in a state of stagnation, but the things are constantly changing. In these moments, the reality gives artist plenty of strangeness, and this kind of feeling forced him to question them constantly.
According to Arendt, artificial world (physical world) is a huge stage with the suitable placement of human existence. The world was built in the endless and eternal of artificial, the trace and the divinity of people also blinked out through endless space and time. Therefore, human beings can use the world full of things to identify and confirm the past and present of their own civilization. Art creation also helps us understand human itself and the significance of the relationship between people and things by rediscovering and rethinking about the things. In this process, we see various forms of immersion, pure material, and pure light, infinite energy in its internal circulation. Relative to this man-made world, Ideology is just a perfect object, and a complete material, a game of particle physics outside the cultural symbol system, is the real way of things.
This exhibition will be exhibited at Vanguard gallery from September 6 till November 29 in 2015.