Tang Chao
OUT OF SYNC
2022.11.08—2023.02.04
---
Vanguard Gallery is pleased to present "Out of Sync" by Tang Chao, the artist's second solo exhibition with the gallery. From November 8, 2022 through February 4, 2023, the gallery space will be converted into a film set by the artist, which is instrumental in exploring personal and emotional shifts in the digital era.
Mind Movie: A Horror Story
Photography, 200 pieces |29.7 x 22.23cm | 2022
Throughout his artistic practice, Tang Chao creates curious and extraordinary scenarios in which he captures the most personal reactions provoked in the characters or projected onto the audience through a channel of synesthesia. In "Out of Sync," Tang Chao exercises three types of emotions—melancholy, anger, and fear—with a series of installations that resembles a film set. The exhibition starts with "Mind Movie: A Horror Story", a spanning storyboard consists of 200 computer-generated illustrations. The plot is adapted from the classic Japanese horror film "Ring". In the original 1998 production, the vengeful ghost used an old TV monitor as a portal to crawl back into the real world. However, in Tang Chao's reconstructed scenes, ironically, the ghost struggles with its own horror caught in an age of high-resolution digital images. The nightmare in "Mind Movie: A Horror Story" reincarnates in the gallery space as "Angry Rabbits", a blue-screen motion capture set, and "Whimper Song No.2: Backward Masking", a video fixed to the center of the blue set. Rendered in a melancholic tone, the video mixes images of fundamental elements from both the analog world and the cyber space, and emits grainy graphics and white noise which is imagined as cosmic microwave background. Surrounding the video, the same-sake protagonists of "Angry Rabbits" hide in plain sight—there imbedded in the orange cross marks of the blue set are images of two rabbits: one derived from Joseph Beuys' 1965 performance piece How to Explain Pictures to a Dead Hare, and one borrowed from the punchbag bunny doll in popular Japanese carton Crayon Shin-Chan. The two rabbits cross-referenced as a witty metaphor for anger.
Whimper Song No.2: Backward Masking
Singe channel video, color, sound|2022
"Out of Sync" is constructed as a film production suspended at the conception stage, offering interrelated parts to be weaved together in the mind of viewer. It provides emotional clues—melancholy, anger, and fear, as well as the structural, graphic, and audio materials to be detected, processed, reorganized, and reimagined. The components of the exhibition stimulate an unsynchronized experience that echoes the displacement of emotions in the age of digital fabrication.
Set 1#
Digital Painting | 61.7 x 30.8cm| 2022
---
INSTALLATION VIEW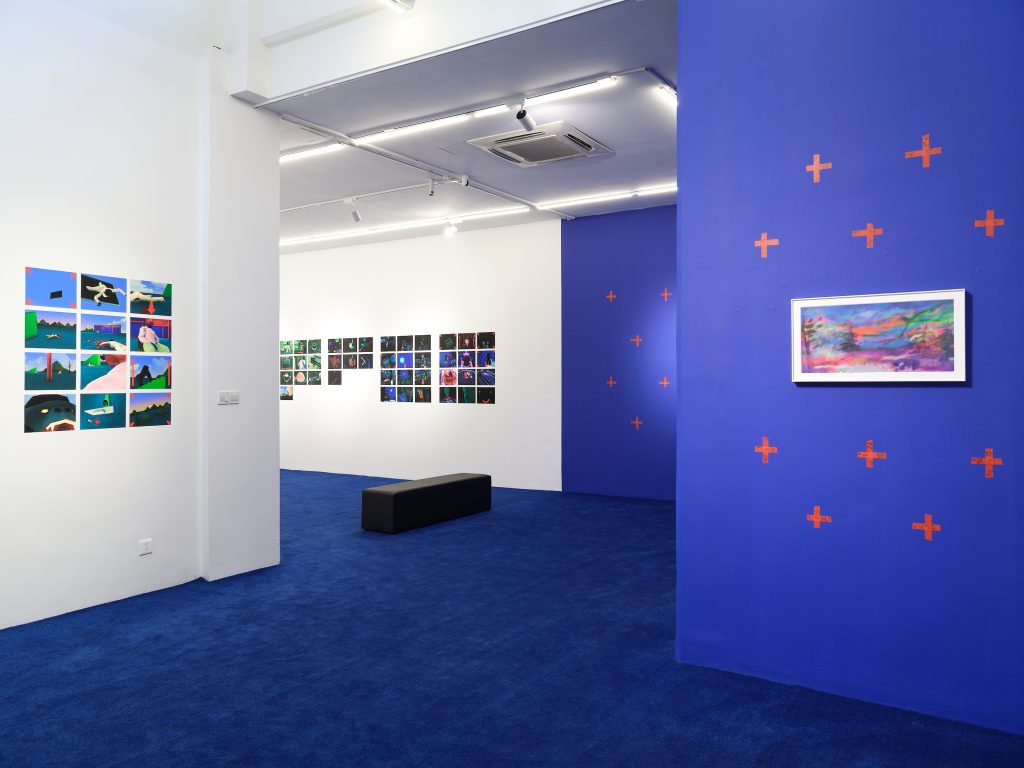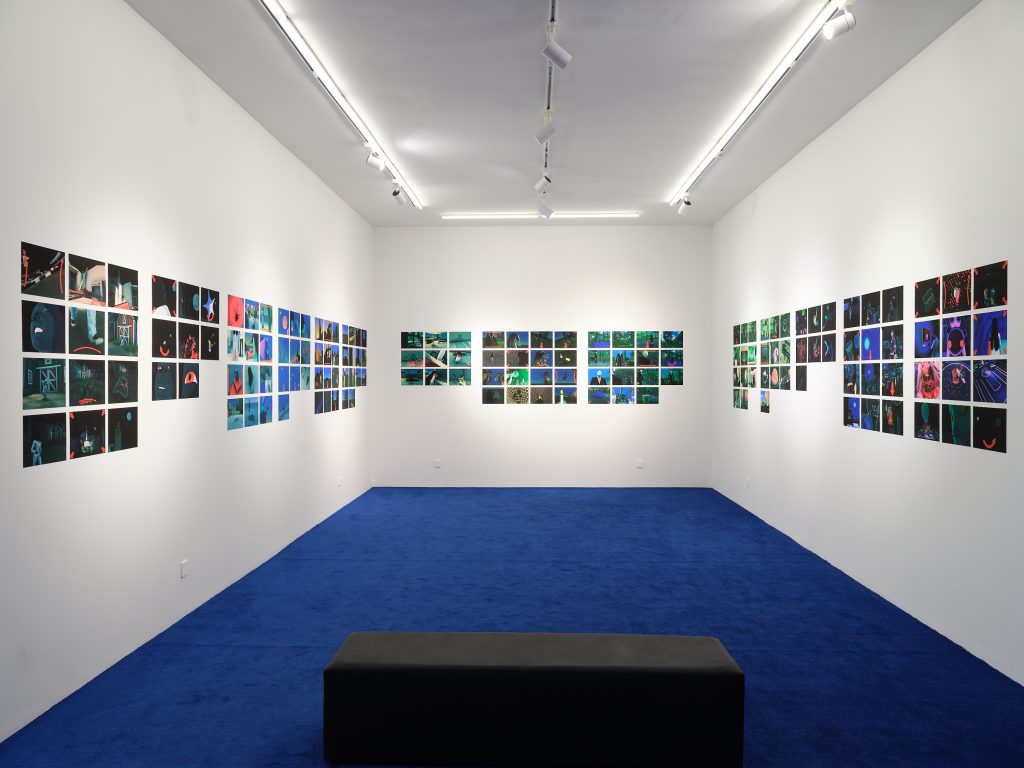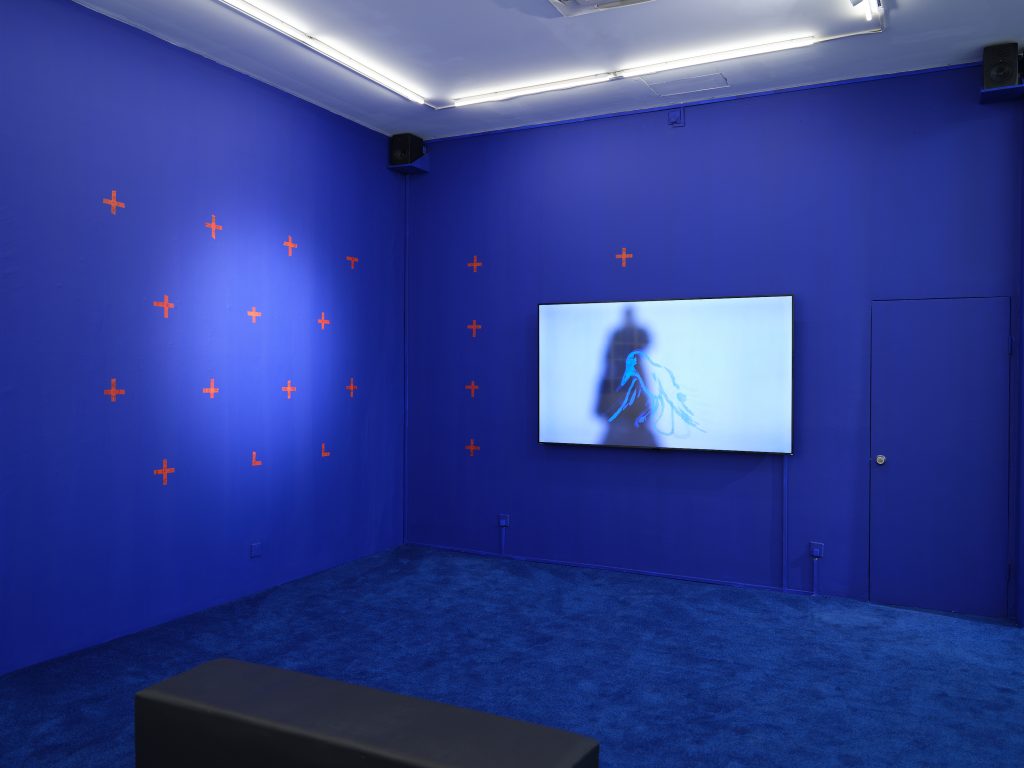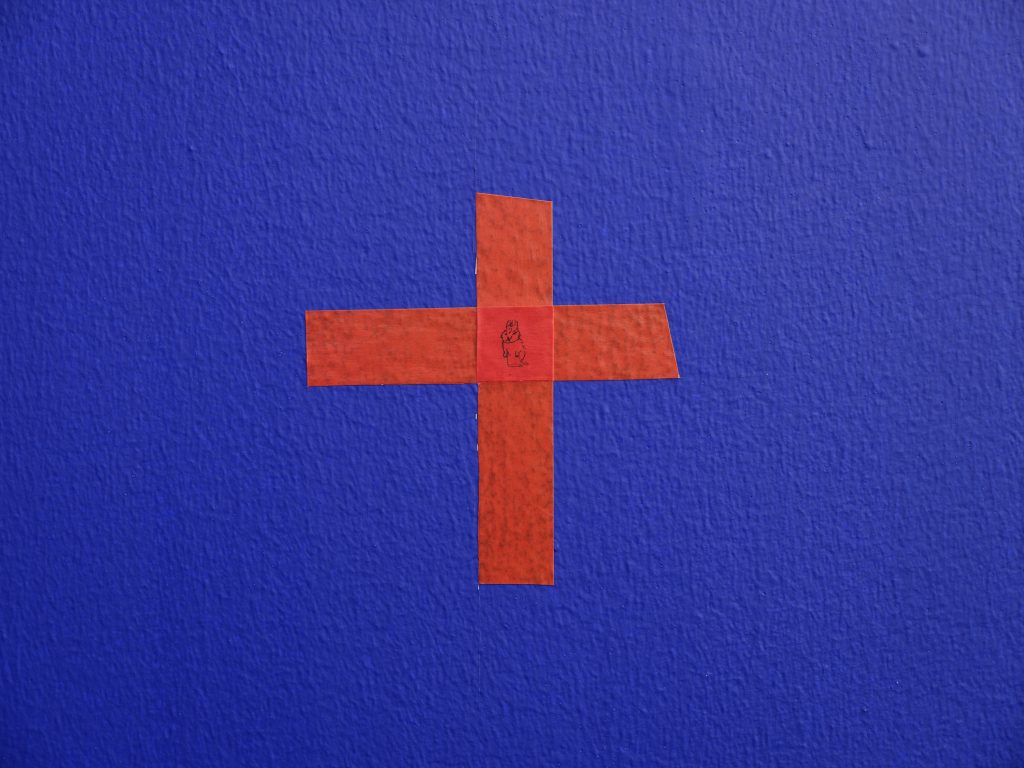 ---
ABOUT THE ARTIST
Tang Chao was born in Hunan, China in 1990. He graduated from the School of Inter-Media Art of China Academy of Art in 2014. He now lives and works in Shanghai. The essence of Tang Chao's work is like ItaloCalvino's suggestions on lightness in literature. For instance, he refines awhole script into one sentence: "The dilemma of being in a modern island, aparadise of self-exile." And recently: "Several delightful dots covered of aseries of weak voices."When you focus on the tone and rhythm of the sentence, and express it though camera, you then get the shaking focus, light and the scenes. The words are not the most important content; they are sometimes softly whispered, stuttered, or eventopsy-turvy. Of course he occasionally uses pictures, performances, installationsor dramas for expression, sometimes even typing a few letters on the keyboard.Tang Chao is good at pause and press space, press and hold for a few seconds would be fine as well. Healways tries to release some illocutionary meaning in every blank space with astraightforward manner.
His recent exhibitions include: "Out of Sync", Vanguard Gallery, Shanghai, China (2022); "Nights after Days", The Store, Seoul, Korea (2022); "Nonphysical: Shimmer (online project)", Vanguard gallery, Shanghai, China (2021); "From Lack to Light" (2017) took place at Vanguard gallery, Shanghai. His works were featured in the following group exhibitions: "The Pieces I Am", UCCA Edge, Shanghai, China (2022); "Night Dimension: Night as Prelude", UCCA Edge, Shanghai, China (2022); "Within Space – Time, We Walk Through Images", Glow Shenzhen 2021 – Futian, Shenzhen, China (2021); "Emerging Media Artist Exhibition Un/Conventional", OCAT Shanghai, China (2020); "Play Socieities: wolves, lynx and ants", Hyundai Motorstudio, Beijing, China (2020); "In a Half of Maze", CAA Art Museum, Hangzhou, China (2019); "Sooner/Later", SNAP, Shanghai, China (2019); "Incandescence", BIG SPACE x Chino Gallery, Shanghai, China (2019); "The Time That Remains—Room No.6", Grey Cube, Goethe Institut China, Beijing, China (2018); "Questioning Photography Now", GCA, Chongqing, China (2018); "Pity Party", Sleepcenter, New York, USA (2018); "Indoors Universe": the 5th Huayu Youth Award, Huayu Art Center, Sanya, China (2017); "A map of the world that does not include utopia is not worth glancing at", Beijing Commune, Beijing, China (2017); Spain Moving Image Festival, Madrid, Spain (2017).